NEYO GOES BACK ON HIS WORD BY GETTING BABY NUMBER 4 WITH NEW WIFE
Neyo is about to become a father again. The singer and his wife were spotted on new year's eve having dinner at Catch LA in West Hollywood and his wife was heavy.
This will be Neyo's second child with his wife Crystal Renay and his 4th child in all. He had two kids with his ex Monyetta — Madilyn Grace, 7, and their son, Mason Evan, 6, — then decided he didn't want any more kids again, so he made Monyetta tie her tubes while claiming he was also going to get a vasectomy done so he too couldn't have kids. He never got that done.
                                                         NEYO'S EX PARTNER WITH THEIR 2 KIDS
Now, he's dumped Monyetta and is busy having kids and making a new life with Crystal while Monyetta can't have any more kids. His son with Crystal, Shaffer Chimere Smith, Jr, is 1. The sex of the second child they are expecting haven't been  revealed.
So you cansay Life is getting even sweeter for NE-yo and Crystal Smith!

Neyo who is  38-year-old and his wife Crystal, star of E!'s new series The Platinum Life, spoke to reporters saying

"We are so excited!" the pregnant businesswoman tells E! News. "This definitely wasn't in the plan and we weren't trying at all!"
Ne-Yo, real name Shaffer Chimere Smith, (hmm who knew Ne-yo has Ibo Roots,) and Crystal Welcomed their first child, a son Shaffer Chimere Smith Jr., back in May 2016, just one month after they got married in L.A. The duo is also parents to son Mason Evan and daughter Madilyn Grace from Ne-Yo's previous relationship with Monyetta.
The lovebirds tells us their kids are "going to be so excited" once they find out they're getting a fourth sibling. "Maddie has asked a few times for a little sister since having SJ so fingers crossed," they said.

Ne-Yo and Crystal have yet to find out the sex of their child. "This gender reveal party is going to be epic," they said.

And as for baby names, they added, "We have had names for our angels since before Shaffer Jr. was born so, yes, we are all set on baby names."

Crystal says she's managed to avoid any morning sickness during her first trimester. "Actually I haven't really been sick at all but the cravings are real!" she says. "All I want are raw oysters and steak! Which since becoming vegan has totally messed up my diet but as long as our miracle gets the nutrition it needs I will eat all the meat in the world!"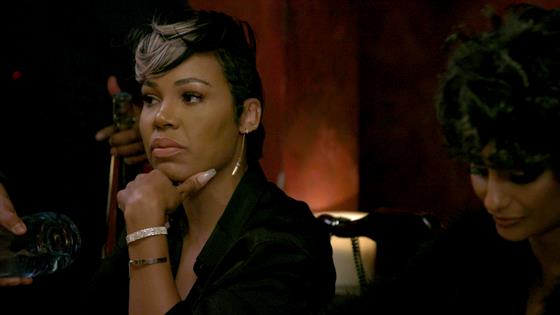 crystal on E! Platinum Life