Manchester City triumphs in Manchester Derby as Pep continues good record over Jose
It was a gripping and energy-sapping encounter, that had it all.  Mistakes, near misses and lung-bursting endeavour, but at the end of it all, Pep Guardiola drew first blood against Jose Mourinho in Manchester with City claiming a 2-1 victory over United at Old Trafford to climb to the summit of the Premier League.
City Kept their 100 per cent start to the season intact after racing into a 2-0 lead through Kevin De Bruyne and Kelechi Iheanacho before goalkeeper Claudio Bravo, Joe Hart's replacement, gifted United a lifeline with a first-half blunder.
There were penalty appeals, and United will argue that Bravo's second-half foul on Wayne Rooney looked like a stone wall penalty and perhaps even a red card for the goalkeeper, but while this game ended with the points going to City, there can be little doubt that Manchester's big two will be the teams to beat in this season's title race.
This game had been preceded by days of reminders of Mourinho and Guardiola's history, their fiery three years patrolling the technical areas of the Nou Camp and Santiago Bernabeu, so it was nice to see Mourinho wait for the City manager and share a handshake, hug and embrace on the touchline before hostilities broke out on the pitch.
Tactics, rather than Personality differences, were what would decide this game and it was Guardiola who came out on top in a pulsating first-half.
Having selected Henrik Mkhitaryan and Jesse Lingard on the flanks for their first start of the season, Mourinho clearly selected the wrong personnel against a City team full of pace and energy.
Lingard and Mkhitaryan looked off the pace and City capitalised, running the game out wide and also in the centre, where De Bruyne showed his quality in the early stages.
At times, City's football was mesmerising. This was the possession-based game that Louis van Gaal had experimented  at United, only at fast-forward speed and with more purpose.
United could not get close to the blue shirts. Marouane Fellaini, impressive so far this season, looked out of his depth against quality opposition and the previously rock-solid central defensive pairing of Daley Blind and Eric Bailly was exposed, never more so than when De Bruyne stole in to open the scoring for City on 15 minutes.
In truth, Mkhitarayan was the root cause of the City goal, with the Armenian's half-hearted attempt at closing down Aleksandar Kolarov allowing the left-back to launch a long-ball deep into United territory.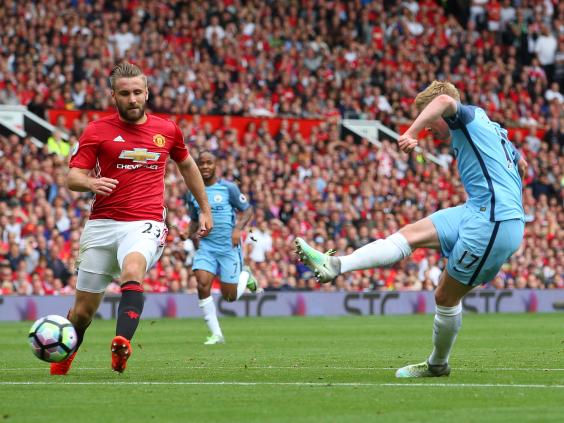 impressive De Bruyne opens his account to put citizens ahead(Getty)
Bailly did not contest the header with Iheanacho and as Blind waited for the ball to drop to him, De Bruyne raced in to snatch the ball and head towards the penalty area, from where he calmly beat the stranded David de Gea with a composed right foot strike.
Having made such a dominant start, De Bruyne deserved his goal and City were ahead on merit.
United's frustrations were borne out when Wayne Rooney and Guardiola fought over the ball in the technical area after the City manager had failed to return it to the United captain.
All typical derby stuff, but United were losing their focus and Mourinho's game-plan was shipping water fast.
And it suffered another blow on 36 minutes when Iheanacho doubled City's lead after being played onside by Blind.
With De Bruyne's curling shot crashing against the far post, Iheanacho was simply in the right place at the right time to convert the rebound.
United were now rocking, but they were handed a route back into the game when David Silva conceded a free-kick with a rash challenge on Antonio Valencia on the near touchline.
Rooney sent the free-kick high to the far post and Newly acquired goalie Bravo, making his debut following his £17m arrival from Barcelona, made an almighty mess of things, crashing into John Stones and dropping the ball, allowing Ibrahimovic to volley in from 12 yards.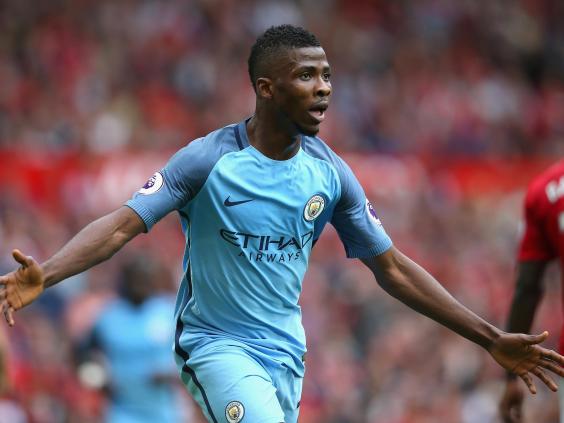 Iheanacho wheels away after doubling City's lead (Getty)
It was an ironic gaffe by the Chilean. Signed by Guardiola because he is good with his feet, Bravo made a mistake with his hands. Joe Hart may have broken into a rueful grin somewhere in Turin.
Bravo now looked nervous, losing possession moments later and escaping when United failed to capitalise, but he regained his composure to save an Ibrahimovic header shortly before half-time.
The jitters returned in the second-half, however, after Mourinho had shaken up his team by replacing the fumbling  Mkhitaryan and Lingard with Marcus Rashford and Ander Herrera.
Rashford made a typically bold start, running deep into City territory before crossing for Ibrahimovic to volley over on 47 minutes.
But then came a key moment in the game, one which could have added to Bravo's misery, when the keeper scraped his studs down Rooney's shin in a challenge for a 50-50 ball.
United screamed for a penalty, referee Mark Clattenburg insisted Bravo had won the ball, but replays suggested that the City goalkeeper had been hugely fortunate.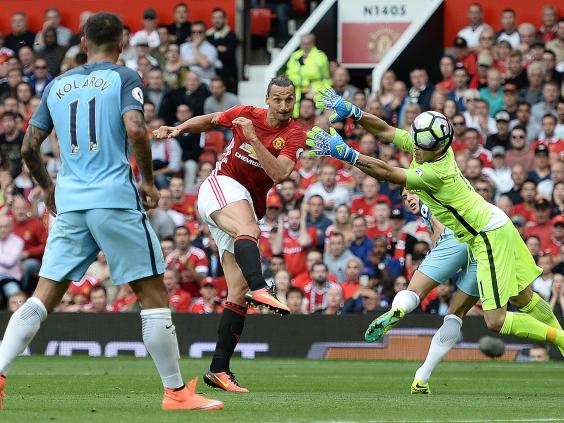 Ibrahimovic strikes to pull one back for United (Getty)
Guardiola, sensing that his team were losing their first-half momentum, replaced Raheem Sterling with debutant Leroy Sane, but United continued to build a head of steam.
And Rashford was denied an equaliser on 70 minutes when, after using Stones as a screen, he shot goalwards, only to see the offside Ibrahimovic deflect his effort into the net.
The game was now end-to-end. De Gea saved from the impressive looking Sane at one end, Herrera and Rashford broke at the other, and then De Bruyne struck the post again in a big let off for the hosts.
Try as they did,United could not find the equaliser, despite a late bombardment, with Ibrahimovic going close, but not close enough, again on 93 minutes.
City emerged victorious, but this rivalry will run and run this season and beyond. But its  Pep with the first blood
culled from Independent.co.uk