DO MEN MARRY FOR LOVE? OR OTHER REASONS..
If you've ever been dumped, your friends have probably comforted you with the cliché sentiment that sometimes things just don't work out, and even if you felt like you were right for each other, "timing is everything." Or in other words, you can love someone and they can love you back just as much, but that isn't always enough to result in marriage.
It kind of feels like a chicken vs. egg scenario: Do we get married when we find the right person, or do we get married to whoever's around when we decide we're finally ready? And is one of those options better than the other? In a quest to unfurl this great mystery, Twitter user Leila asked men to weigh in on that very platitude as its a real issue with men.
Before you immediately say to yourself, "this is absurd, the timing is always right when you find the right person," you should take a look at some responses from men..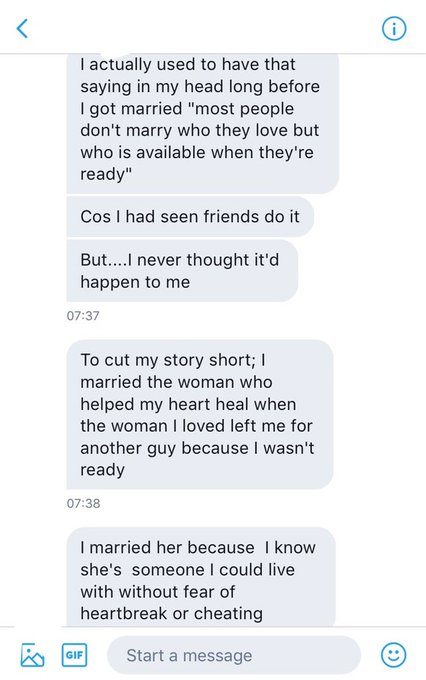 Very interesting piece as this response showed that Love is not a premise its a condition ..but not an over-riding one..see more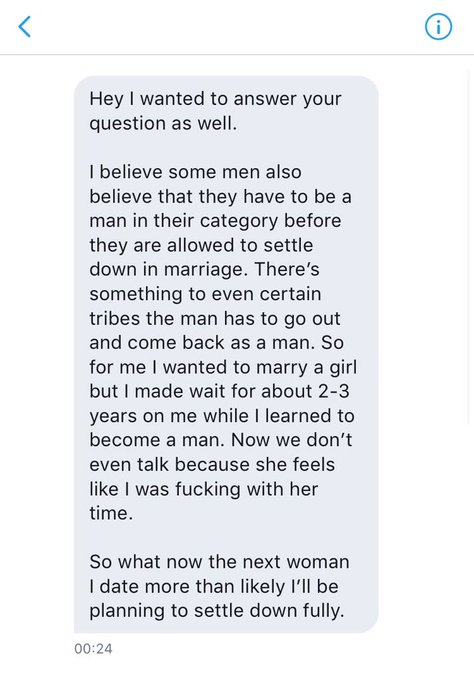 So it can be concluded that a lot plays in a Man's head before Marraige and there are Circumstances he wished he has under control but sadly he doesn't. It just boils down to the way the Stars align for him ultimately.
Here's how another respondent answered by saying :
"I think I will live my life a sad man forever, since I never took the chance to marry her last year. Now I believe I will marry any woman now.