Arsene Wenger decides to call it a Day at ARSENAL after 22years
It came like a bolt from the blues. A joke even. Arsene Wenger the irrepressible strong man of Arsenal would be leaving the Job after 22 years of being in charge. The shock that greeted the news was palpable on Social Media as well wishers were queuing up to pay homage.
Over the past 18 months, the question had become not if, but When and how. Fans and Rivals were like So the greatest managerial run in Arsenal history has come to an end? How would Arsene Wenger break up with the only club he has known in the 21st century? How would Arsenal move on from the man with whom its success had become synonymous?
As it turns out, few, if any, had the correct answer. Or so it seems. Wenger reportedly called his players together Friday morning to break the news: the 2017-18 campaign, his 22nd at Arsenal, will be his last. He will step down for some one else.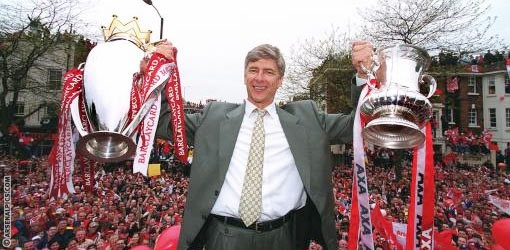 Wenger with his first Double
Arsenal released its statement making the news public, and it was official. Fans were taken aback. Players seemed to struggle to process Wenger's impending departure.
"It's been emotional and there will be time to digest it but it's a sad feeling right now," Arsenal captain Per Mertesacker said. "He's the major figure for this club, more than 20 years, it's been so impressive."
Midfielder Jack Wilshere confirmed the surprising nature of the announcement. "We literally just found out an hour ago, Wilshere said Friday morning. "I'm sure when the dust settles, and we have a few days to think about it, we'll start to reflect on it, but at the moment it's a bit raw, it's a bit sensitive."
For Me i have been a Fan for Years and the person of Arsene and the Identity of the club fell completely in Tandem seamlessly. The team he built was superb at the time. Pace, Power, and Style.
He embodified class and was a complete Gentleman. Who was patient both on and off the bench and enjoyed the respect of all and sundry in the game. His achievements stand at 3 Premier league titles, 7 Fa cups and 1 champions league runners up medal.. The club are keeping all deliberatons over his replacements silent..However,.a number of coaches have been thrown up:
Joachim Low, Brendan Rogers, Liuz Enrique,Carlo Anchelotti etc have all been mentioned.
Social media as expected went agog with countless tweet from Well wishers ,Ex-players, Current players and Fans alike.
To the man who gave me my chance as a 16 year old, and showed unbeliveable faith and commitment towards me. Always a gentleman, like a father through tough times in my career. He always believed in me when most people didn't. Thank you for everything boss! It's down to us no…
— Jack Wilshere (@JackWilshere)
Wenger  and Wilshere
Personally  a very sad for me. I am forever in debt to this man. The person who had faith in me and gave me a platform to progress. Thank you for all the memories and trophies boss
____Hector Bellerin (@Hector Bellerin)
Its been an Honour to play for you and win Trophies. Off the field from a Boy to a Man I am happy to see everyone paying you respect today because you more than deserve it. Thank you Boss.
_____Aaron Ramsey (@AarronRamsey)
Thierry Henry Arsenal's Record Goal scorer spoke to Sky Sports about Wenger.
 "He used to make you believe you were the best player in the world," Henry said of his former manager. He then offered a reminder of Arsenal's Europa League semifinal tie with Atletico Madrid, which kicks off in six days. "Let's not get lost in celebrating the end of his era. The team has to win the Europa League, it would be an amazing achievement and Arsene has never won in Europe before, so it would be a great way to give him a good exit.
Opponents, former opponents and other English clubs chimed in as well. The most noteworthy of the bunch was Sir Alex Ferguson's tribute.
To a great friend Rival and Colleague..You have given your all and you Legacy will never be forgotten for the great achievements you brought to Arsenal. One of the best Managers i had the pleasure to compete against.