ARSENAL 1 VS ATHL. MADRID 1: OH ARSENAL, MY ARSENAL…
I am healthy, i love Football, i love my club . My club knows Im healthy but will not rest until it gives me a Heart Attack who am i? I am an Arsenal fan.  Oh Arsenal My Arsenal.. You were playing against 10 men Athletico Madrid, Their Manager had even been sent to the stands for dissenting behavior. The dinner could not have been better served for you to feast on but what do you do..You choke.
After dominating the game where you missed several chances you eventually score but yet again the dreaded Defensive Calamity that has plagued you reared its ugly head again and you let in a very cheap goal..But i f i know you well as i do as a fan. I won't cry too much over this result. I know you are an expert in finding the hardest possible way to accomplish an easy task. So i wont be surprised if you find a way to pull this on out of the fire. It would be so Typically you.
Emirates Stadium, London. Our home. The atmosphere was electric.
Everything seemed to be going to Wenger's script with eight minutes to go — "1-0 to the Arsenal," as our famous chant goes — but a late equalizer from Atletico forward Antoine Griezmann canceled out Alexandre Lacazette's earlier headed effort, leaving the tie in the balance for the second leg.
It was a heated affair from the kickoff, with Atletico defender Sime Vrsaljko sent off in the ninth minute, shortly followed by his manager Diego Simeone — sent to the stands for dissent.
The Europa League remains Wenger's final chance to claim a trophy with Arsenal, and would be his first European silverware in his 21-year reign at the club, having lost the 2006 Champions League final to Barcelona.
Lacazette scores to put Arsenal Ahead.
We will travel to the Spanish capital for the return leg of the semifinal on May 3 knowing we have to score if we are to reach the final in Lyon on 16 May.
The fireworks at the Emirates started early, with Croatian defender Vrsaljko booked just 75 seconds into the game and shown a second yellow card seven minutes later for a rash challenge on Lacazette.
Minutes after the sending-off, the visitors lost their manager too, as Simeone — tipped by some to succeed Wenger at Arsenal — was sent to the stands for his furious remonstrations towards the referee from the touchline.
Despite the man advantage, Arsenal struggled to break through Atletico's defensive wall in the first hour of the game, spurning chance after chance.
But 15 minutes into the second half, Wenger's side found the back of the net from French striker Lacazette, who made up for missed opportunities earlier in the game with a powerful header past Atletico keeper Jan Oblak.
The Spanish side, meanwhile, had offered little in the way of clear-cut chances, until Griezmann pounced on a misjudged clearance from Arsenal captain Laurent Koscielny, escaping  the keeper and drawing the match level.
It could prove a crucial away goal for Atletico going into the second leg, where a clean sheet at home will see them through to a third European final in five years.
Simeone's team are no stranger to a clean sheet: they have not conceded a single goal in their last 11 games at the Wanda Metropolitano.
Wenger admitted the result had cast a shadow over his final European night at the Emirates.
"Our fans were fantastic, but we created an anti-climax by giving the ball away," he explained.
"We produced the performance we wanted to produce but the result is not in line with the performance.
"Once we were 1-0 up the task was clear for us: not to be caught on the long ball. Their only chance was a long ball.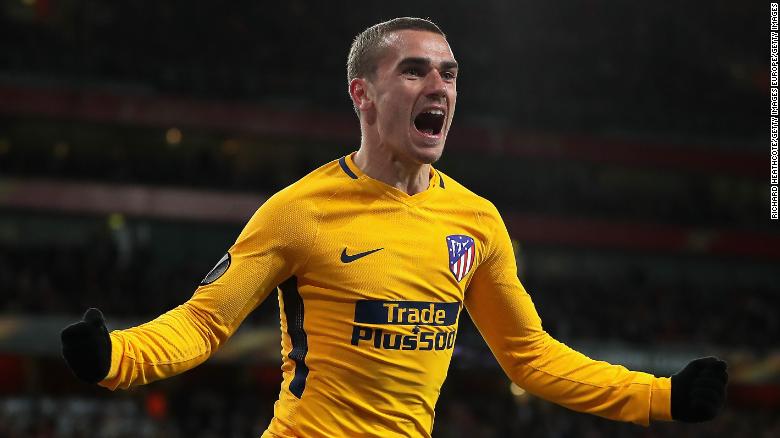 Greizzman celebrates equalizer
"It's frustrating, but we had to not force it," he added. "The second goal could have come, even in the last 10 minutes, but they have one of the best defensive records in Europe."
On the sending off, Wenger said: "Once they were down to 10 men it destroyed the flow of the game; it was not to our advantage."
Simeone, meanwhile, wouldn't be drawn on his sending off, diplomatically saying: "Referees make mistakes, managers make mistakes, footballers make mistakes.
"The referee saw it the way he saw it, and we had to survive. I think survive is the best way to describe it in this game."
In a heartfelt media conference, Simeone hailed his players as "heroes," adding that their performance will "go down in the history of Atletico Madrid."
He confessed: "It was a 90 minutes in which my body was filled with really strong emotions.
"I have to say that these players, as my assistant said, are heroes. To stand firm as they did after such a long season, for 80 minutes, was tremendous."